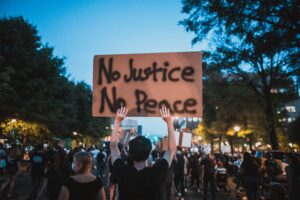 All of us at YouthZone are outraged by the incidents of racism we have witnessed over the past two weeks. The senseless killing of George Floyd has provoked an outpouring of fear, hurt and rage across our nation.  And rightly so.  His murder was not due to a racist individual acting badly, but rather it was the direct result of a deeply established culture of systemic racism that is embedded in the DNA of our country.
George Floyd joins the astonishingly long list of black Americans who have lost their lives based on the color of their skin.  Some of the names we know – Ahmaud Arbery, Breonna Taylor, Eric Garner, Trayvon Martin – most we do not.
We stand together with the victims of murder, marginalization, and repression because of skin color. We also stand with those who seek justice through protest here in our community, and all across our state and nation.
Our country needs healing.  But the healing that is needed can only arise from substantial systemic reform. We do not have the answers, but we do know that we want to be part of the change.
YouthZone has a long history of supporting and advocating for the vulnerable members of our community and advocating for equality, inclusion and fairness.  We believe that everyone must have a fair shot at success as well as access to assistance when they stumble.
YouthZone has done much in this area, and there is much more we can do.  Our vision is for every community to have Hopeful Youth, Strong Families and Safe Communities. We know that we cannot rely on what we have done in the past.  We must act in the present.  
YouthZone is committed to inclusion.
YouthZone unequivocally condemns intolerance.
YouthZone stands firmly against injustice.
The time has come to stop diagnosing what is wrong and start advocating for what is right.