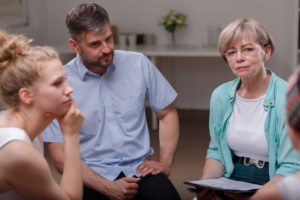 What is Restorative Justice?
Restorative Justice is a process that brings together victims, offenders and community members to identify and repair harm caused by crime and conflict.  As an alternative to the traditional justice system, which focuses on punishment, Restorative Justice seeks to repair harm by empowering victims and allowing offenders to take responsibility for their actions by giving them a way to make things right.
Why should you care?
Youth who are detained are five times more likely to be detained for future criminal behavior.  86% of the youth who complete the Restorative Justice process do not reoffend.
The Circle Process
YouthZone uses a circle process whereby the offender(s), the victim(s), a volunteer community member, law enforcement officers and two trained facilitators meet face-to-face.  The offender tells his/her story and the other circle members explain the ripple effect of the offender's actions.   A contract is developed that uses the offenders strengths to repair the identified harms to the victim, to their community, to their family and themselves. The meeting typically lasts 1 ½ to 2 hours.
Circle Participants include: the offender, his/her parents or guardian, the victim(s), a volunteer community member, a law enforcement officer, and two trained facilitators.  The circle can also include support persons for the victim and offender.
Who refers to Restorative Justice?
Courts, Schools, Law enforcement and family members
Why YouthZone?
YouthZone has been facilitating Restorative Justice Circles for youth ages 10-20 years old since 1999.  When kids come to YouthZone, they receive an in-depth evaluation that identifies risk factors and connects the youth and family with the services they need.   Restorative Justice is one of the tools in the case manager's toolbox.  Case managers are not only addressing the offense, but identifying factors that may be causing the offense.
The History of Restorative Justice
at YouthZone
As legend goes, it all started around Bud and Sharlene Collett's kitchen table in Rifle in 1976.  YouthZone began as Let's Work it Out and later became Garfield Youth Services followed by its present name of YouthZone .
In 1993, Garfield Youth Services offered a program called "Victim-Offender Mediation."  The program looked a little different than it does today.  Instead of a circle, two mediators were seated across the table from the youth.  The program's focus was on repairing harm through restitution.  The group found that victim involvement led to restoration and the program evolved into Restorative Justice, headed by Barb Lorah. 
Some of the original volunteers included Marion Smith, Jan Kaufman, and Eddi Vanderhoof.  Barb and Bill Lorah, Alec Raffin, Jean Heyser, Patty Phelps, Lisa Franke, and Debbie Wilde acted as facilitators. Barb pioneered the idea of writing the offender's assets on a large piece of paper and using those assets to repair harm.  This idea has spread and most RJ programs use it today.   
Barb remembers one of the early circles that had a big impact on the youth offender.  A 12-year-old boy who loved art.  To repair the harm, he wanted to paint miniature pictures and use them as prizes at Sunnyside Retirement Center's weekly Bingo game. He enjoyed helping run the games and awarding prizes so much that he continued to paint pictures and volunteer for a few years after his two-month obligation was fulfilled. 
Thanks to all the hard work of the many past employees and volunteers, Restorative Justice has become an important program at YouthZone that helps kids, families, and victims in our communities.
How can I be involved?
To become a volunteer community member, surrogate victim or facilitator,please contact YouthZone's Restorative Justice Coordinator at rj@youthzone.com
How can I make a referral?
To make a referral to YouthZone's Restorative Justice Program,please contact YouthZone's Restorative Justice Coordinator at rj@youthzone.com