A Heartfelt Thank You To Our Community!
---
From all of us at YouthZone, we extend our deepest gratitude for your generous support at our 'True Colors' event on November 11, 2023. Your meaningful contribution was instrumental in the success of this vibrant event, celebrating youth creativity and resilience.
The event was a phenomenal success, embodying the remarkable spirit of our local community and fostering a crucial dialogue about positive change for our youth and their families. Seeing the diverse threads of our community weaving together at The Arts Campus at Willits was truly inspiring.
We're grateful for all our sponsors, partners, volunteers, and attendees. Your involvement has allowed YouthZone to continue empowering youth and their families, driving growth and positive change. Each transformative story at YouthZone is shaped, in part, by your generosity.
Thank you for embracing our vision and contributing to the success of 'True Colors'. We anticipate more shared connections and impactful journeys in our future together.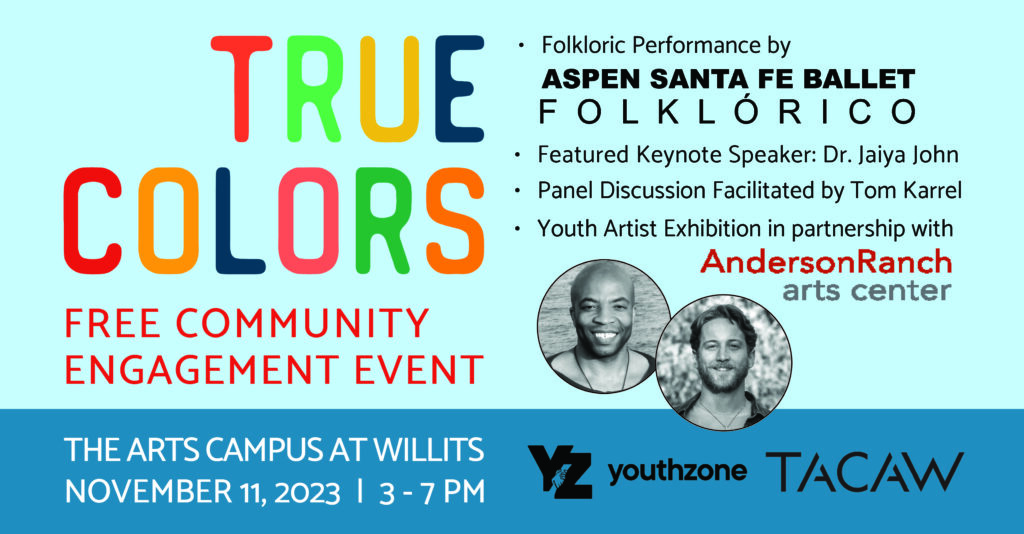 November, 11 2023 at TACAW from 3 - 7 pm
Free & Open to the Public - RSVP to Guarantee Your Seat!
READ THIS - November 9, Aspen Times Article by Kimberly Nicolette "Celebrating Your True Colors"
---
"Facing Challenges. Sparking Transformation. Honoring the Vibrancy of Youth and Families."
Join us for True Colors, a vibrant community engagement event on November 11, 2023, from 3 to 7 pm at The Arts Campus at Willits (TACAW). This immersive experience is brought to you in partnership with YouthZone, TACAW, Anderson Ranch Arts Center, Tom Karrel Coaching, Soul Water Rising, and the Aspen Santa Fe Ballet. It celebrates our local youth's creativity and resilience, as well as an opportunity for our community to join in the discussion of positive change in support of  youth and their families.
We are thrilled to welcome our keynote speaker, the esteemed Dr. Jaiya John, an internationally recognized freedom worker, author, and poet. Jaiya is the founder of Soul Water Rising, a global rehumanizing mission to eradicate oppression. Tom Karrel from Tom Karrel Coaching will facilitate two dynamic panel discussions featuring Naomi Peña, Betty Lucas, Brianda Cervantes, and Claudia Flores-Cruz that will focus on trauma-informed approaches to meet the needs of our youth and effect positive change.
Additionally, we'll be treated to Folkloric performances by the Aspen Santa Fe Ballet. the guitarist and professional musician Rodrigo Arreguin will be performing during the event. Also enjoy a youth art exhibition, featuring work from the talented artists of Anderson Ranch Arts Center's 2023 Teen Summer Workshops. This unique program, operated in partnership with YouthZone, offers free art programs for teens aged 15-18 from Basalt to Parachute, CO.
This event is made possible through a multitude of sponsors, to whom we extend our deepest gratitude. Gather with us to celebrate our youth, support their artistic endeavors, and engage in thoughtful discussion about their needs and the community's role in their lives. Let's come together to respond to our youth in trauma-informed ways and see change happen. We hope to see you there!
Event Details
Doors open for show @ 3:00pm
3:00 pm – 7:00 pm
Seated Show | All Ages Welcome
Location: TACAW, 400 Robinson St, Basalt, CO 81621
EVENT SCHEDULE
- 3:00 ArtWalk Through TACAW Lobby
- 3:30 Welcome and Introductions
- 3:35 Panel Discussion #1
"The Metamorphosis: featuring Naomi Peña"
- 4:05 Aspen Santa Fe Folklorico Performance #1
- 4:20 Panel Discussion #2
 "Change Through Time: featuring Betty Lucas, Brianda Cervantes, and Claudia Flores-Cruz"
- 4:50 Aspen Santa Fe Folklorico Performance #2
- 5:05 Keynote
- 5:50 Concluding Remarks
- 6:00 Book Signing & Meet and Greet
Event Partners

This community event is held at The Arts Campus at Willits. TACAW presents exceptional performing arts, cultural events, and thought-provoking programming that sustain a connected, engaged, and inspired community. They are a non-profit organization. The Arts Campus at Willits board and staff are a group of highly engaged professionals with expertise in performing arts programming, construction, development, design, not for profit arts administration, fundraising and donor management, and unified by an overwhelming commitment to the arts and the community. TACAW is a proud nonprofit partner of 1% for the Planet. TACAW plays a part in fighting climate change and making an environmental impact.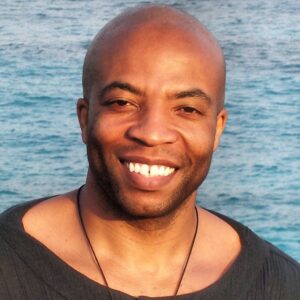 Keynote speaker: Dr. Jaiya John from Soul Water Rising
Dr. Jaiya John was orphan-born on Ancient Puebloan lands in the high desert of New Mexico, and is an internationally recognized freedom worker, author, and poet. Jaiya is the founder of Soul Water Rising, a global rehumanizing mission to eradicate oppression. The mission has donated thousands of Jaiya's books in support of social healing, and offers grants and scholarships to displaced and vulnerable youth. He is the author of numerous books, including Fragrance After Rain, Daughter Drink This Water, and Freedom: Medicine Words for your Brave Revolution. Jaiya writes, narrates, and produces the podcast, I Will Read for You: The Voice and Writings of Jaiya John, and is the founder of Freedom Project, a global initiative reviving traditional gathering and storytelling practices to fertilize social healing and liberation. He is a former professor of social psychology at Howard University, and has spoken to over a million people worldwide and audiences as large as several thousand. Jaiya is a former National Science Foundation fellow, and holds doctorate and master's degrees in social psychology from the University of California, Santa Cruz, with a focus on intergroup and race relations. As an undergraduate, he attended Lewis & Clark College in Portland, Oregon, and lived in Kathmandu, Nepal, where he studied Tibetan Holistic Medicine through independent research with Tibetan doctors and trekked to the base camp of Mt. Everest. His Indigenous soul dreams of frybread, sweetgrass, bamboo in the breeze, and turtle lakes whose poetry is peace.
Jaiya's book titles include Dear Artist, All These Rivers and You Chose Love, No Man Came, Fragrance After Rain, Freedom: Medicine Words for Your Brave Revolution, Your Caring Heart: Renewal for Helping Professionals and Systems, Daughter Drink This Water, Calm: Inspiration for a Possible Life, Sincerity of Sunlight, Fresh Peace, Legendary: A Tribute to Those Who Honorably Serve Devalued Children, Beautiful: A Poetic Celebration of Displaced Children, Reflection Pond: Nurturing Wholeness in Displaced Children, Clear Moon Tribe, The Day Jumoke Found His Name, Father to Son: Ode to Black Boys, Habanero Love: A Poem of Sacred Passion, Lyric of Silence: A Poetic Telling of the Human Soul Journey, and Black Baby White Hands: A View from the Crib.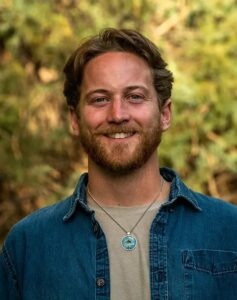 Panel Discussion facilitated by Tom Karrel from Tom Karrel Coaching
Tom Kerrel is a Life Coach based in Colorado, specializing in helping disconnected men find the clarity they need to live an authentic, fulfilling, and purpose-driven life. Drawing from his expertise in Strategic Intervention and Human Needs Psychology, Tom focuses on mindset, relationships, career, habits, and routines when working with his clients. His primary goal is to guide clients in understanding the stories and behaviors that may be hindering their growth and preventing them from meeting all of their needs in a healthy manner. "Come work with me, and see how it feels to be fully seen, heard, and supported." Visit www.tomkarrel.com to learn more.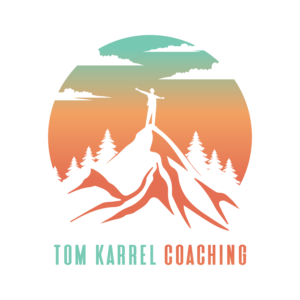 Tom is also volunteers with YouthZone running Restorative Justice sessions. Currently, Tom is in the process of completing his coaching training in Strategic Intervention at Robbins-Madanes Training and is set to soon receive his BCC (Board Certified Coach) accreditation. Tom is a coach, facilitator, and community builder who has a deep passion for meaningful conversations. Over the course of the past 8+ years, Tom has dedicated his work to assisting individuals, groups, and organizations in Uganda and the United States. With a Master's degree in Public Health & International Development and co-authorship of the book "Listen. Think. Act.", Tom brings a wealth of knowledge and expertise to his endeavors. In his free time, you can often find Tom immersed in meditation, yoga, writing, reading, biking, hiking, tennis, boxing, traveling, being silly with friends, or cooking delicious plant-based meals.

 Folkloric Performance by Aspen Santa Fe Ballet
Aspen Santa Fe Ballet Folklórico enriches the lives of children through free, after-school instruction in Mexican folkloric dance. Aspen Santa Fe Ballet founded Folklórico in 1998 with a goal of engaging the community with high quality arts outreach. Folklórico now directly impacts the lives of 240 students, grades K-12 in Basalt, Carbondale and Santa Fe public schools. The award-winning Folklórico ensemble performs regularly across the region. With remarkable success Folklórico transcends cultural barriers through the art of dance. Folklórico teaches artistic excellence, promotes positive youth development and encourages the crossing of cultural boundaries by students and their families. It represents Aspen Santa Fe Ballet's firm commitment to engage and inspire new generations of creative thinkers and artists.
Aspen Santa Fe Ballet Folklórico offers many performing and educational opportunities. Each year, an annual recital showcases the entire program, providing participants with a chance to express their appreciation for the cultural dances of Mexico. Qualified students may be asked to join the ASFB Folklórico performance group or participate in other educational events that are held across the Western U.S. and Mexico. These have included performances at the Mexican Independence Day celebration with the Colorado Symphony organized by the Mexican Consulate in Denver. ASFB Folklórico has also been represented at national and international folklórico conferences in Las Vegas Nevada, and Hidalgo, Mexico to name a few.

Youth artist exhibition in partnership with Anderson Ranch Arts Center's 2023 Teen Summer Workshops. This unique program, operated in partnership with YouthZone offering free art programs for teens 15-18 years old from Basalt to Parachute, CO.
Anderson Ranch Arts Center enriches lives with art, inspiration, and community. For over half a century, Anderson Ranch Arts Center has opened our doors to everyone with a passion for the arts. Art requires individual thought and expression and artists can serve as powerful educators during times of great change and growth. We maintain an intentional focus on ensuring inclusion in our community to those who have been historically underrepresented based on race/ethnicity, age, disability, sexual orientation, gender, gender identity, socioeconomic status, geography, citizenship status, or religion. We remain committed to strengthening our understanding of equity and diversity by listening to our community's needs, researching rich and diverse artistic programming, partnering with BIPOC and LGBTQ+ communities and cultural organizations, and providing education for our staff, faculty, and board.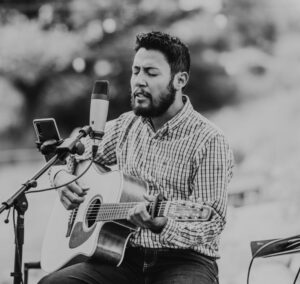 Musical performance by Rodrigo Arreguin
Rodrigo is a guitarist and Professional Musician from Tijuana, Mexico. He started to play guitar at the age of 10 and studied Classical Guitar for over a decade. He has being playing live music since 2005 and has a repertoire that goes through different styles of music such as rock, pop, jazz, country, flamenco, latino and more. He's been playing in the Roaring Fork Valley for almost 5 years.
His goal on every performance is to make people happy, comfortable and to give everyone a great experience with music.
Become a Sponsor
We invite your business to become a sponsor of the True Colors event. By becoming a sponsor, you will receive numerous promotional benefits including having your name and logo featured in all printed event marketing material. Your business will also receive recognition on print ads in GSPI, Rifle Telegram, and Aspen Times. Additionally, we will feature your logo on the YouthZone website with a link to your website and give you a social media spotlight through our e-newsletter and Facebook page. We would be honored to have your support for this important event and would like to extend an invitation for you to attend.
$1,000 Level Sponsor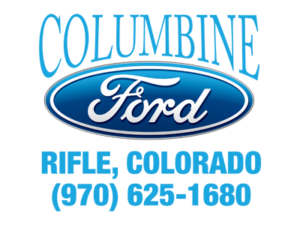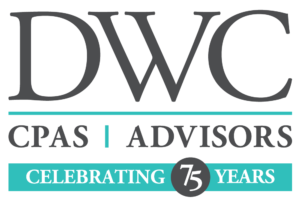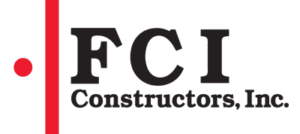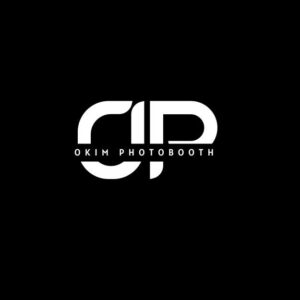 Pine's Stone Company


Slifer Nicolas