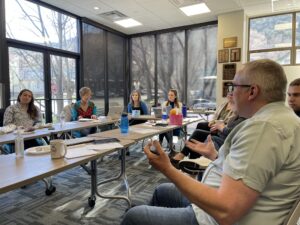 Ab

out

YouthZone
YouthZone currently serves over 1,500 youth and their families every year. We offer a wide variety of evidence-based programming through which our clients find safety, compassion, and education as they work to overcome the personal struggles they face.
At YouthZone, we believe that growth is possible for all our clients, regardless of history. We strive to help our clients see what is possible and support them as they learn and grow. Our unique, inclusive approach to fostering youth development is based in the understanding that the difficulties faced by today's adolescents are complex and multi-faceted. In service to this reality, we offer a wide array of programs that include a youth asset survey, parental guidance and support, individual and family counseling, restorative justice, court programs and monitoring, educational workshops, and much more.
Every day, the staff of YouthZone works to make a significant difference in the world by supporting the growth and development of the next generation.  We are team of passionate, creative and hard-working optimists who are as committed to each other as we are to the young people we serve.
---
 Current Openings
** Click job title to view full description **
With a compassionate nature, well-developed clinical skills, and a high level of proficiency in clinical mental health best practices, the Clinical Director's primary responsibility is the well-being of our clients and YouthZone employees. The
Clinical Director provides leadership and support for staff in managing individual client cases and for the organization as a whole in ensuring the alignment with clinical, ethical, and legal liabilities.
Con una naturaleza compasiva, habilidades clínicas bien desarrolladas y un alto nivel de competencia en las mejores prácticas clínicas de salud mental, la principal responsabilidad del Director Clínico es el bienestar de nuestros clientes y empleados de YouthZone. El director clínico proporciona liderazgo y apoyo al personal en la gestión de casos de clientes individuales y a la organización en su conjunto para garantizar la alineación con las responsabilidades clínicas, éticas y legales.
---
The Parent Education and Community Outreach Coordinator serves as the liaison between the YouthZone service providers and parents of our clients by explaining our services and interventions, answering questions as they arise, and serving as coach by offering parenting advice as needed. Additionally, the Parent Education and Community Outreach Coordinator is responsible for creating and delivering targeted supportive outreach and engagement strategies throughout the YouthZone service area.
Coordinadora de Educación para Padres y Alcance Comunitario
El Coordinador de Educación para Padres y Alcance Comunitario sirve como enlace entre los proveedores de servicios de YouthZone y los padres de nuestros clientes, explicando nuestros servicios e intervenciones, respondiendo preguntas a medida que surgen y sirviendo como entrenador ofreciendo consejos para padres según sea necesario. Además, el Coordinador de Educación para Padres y Alcance Comunitario es responsable de crear y brindar estrategias específicas de compromiso y alcance de apoyo en toda el área de servicio de YouthZone.
---
The Substance Use Prevention and Intervention Specialist's primary responsibility is to provide group and one-on-one counseling and educational programs to youth clients who are experimenting with substances, or at risk for sustained use and/or addiction. The programs are to be offered at times and locations that work best for the clients and their families.
La responsabilidad principal del Especialista en Prevención e Intervención del Uso de Sustancias es brindar programas educativos y de asesoramiento grupales e individuales a clientes jóvenes que están experimentando con sustancias o en riesgo de uso sostenido y/o adicción. Los programas deben ofrecerse en los horarios y lugares que funcionen mejor para los clientes y sus familias.
---
The Mental Health Counselor will counsel individuals and groups to promote optimum mental health. The successful candidate will possess at least a basic knowledge of youth assessment, diagnosis of mental health concerns, designing treatment plans, and experience providing services directly to youth for their mental health concerns.
El consejero de salud mental asesorará a individuos y grupos para promover una salud mental óptima. El candidato seleccionado deberá poseer al menos un conocimiento básico de la evaluación de jóvenes, el diagnóstico de los problemas de salud mental, el diseño de planes de tratamiento y la experiencia en la prestación de serviciosdirectamente a los jóvenes por sus problemas de salud mental.
With an analytical mind and a compassionate nature, Youth Advocates at YouthZone serve as coordinators, mentors, coaches and trusted adults for our youth clients. Youth advocates assess the strengths and the needs of each youth, then coordinate and monitor restorative activities, treatment plans, and other interdisciplinary care, while ensuring that court-mandated requirements are also met. On any given day, youth advocates may perform intake interviews, check in with clients, meet with parents, arrange resources, and complete reports and data entry.
Con mente analítica y espíritu compasivo, los defensores de jóvenes de YouthZone actúan como coordinadores, mentores, entrenadores y adultos de confianza para nuestros clientes juveniles. Los defensores de jóvenes evalúan los puntos fuertes y las necesidades de cada joven para después coordinar y controlar actividades reparadoras, planes de tratamiento y cualquier otro cuidado interdisciplinario al mismo tiempo que hacen lo necesario para que se cumpla con las exigencias dispuestas por el juez. Todos los días, estos defensores de jóvenes hacen entrevistas de admisión, seguimiento de clientes, reuniones con padres, solicitan recursos, además de completar informes y hacer entrada de datos.
---
Provide opportunities for youth to be responsible, contributing members of society and to work with their families and the community toward this end.
YouthZone is a great place to work!  We offer our employees a flexible, weekly work schedule; three hours of weekly exercise time; employee retirement plan; health insurance/wellness stipend; a positive working environment, and; the opportunity to be part of a wonderful team of professionals.
All offers of employment at YouthZone are contingent upon the candidate passing a background screening process that includes the Colorado Bureau of Investigation fingerprint check and Child Abuse Registry check. Client Service positions also require a pre-employment drug screen.  All YouthZone staff must also show proof of auto insurance, and submit a copy of diploma(s) and/or certificate(s) of training.
We strongly encourage black, indigenous, people of color, immigrants and LGBTQ+ people to apply. YouthZone is an equal opportunity employer and welcomes everyone to consider joining our team.  
YouthZone is committed to inclusion.  
YouthZone advocates for equality.  
YouthZone has a long history of promoting justice. 
Aquí en YouthZone, alentamos fuertemente a las personas negras, indígenas, de color, inmigrantes y LGBTQ+ a aplicar. YouthZone es un empleador de oportunidades con igualdad y da la bienvenida a todos para considerar unirse a nuestro equipo.  
 YouthZone se compromete a la inclusión. 
YouthZone aboga por la igualdad.  
YouthZone tiene una larga historia de promoción de la justicia.