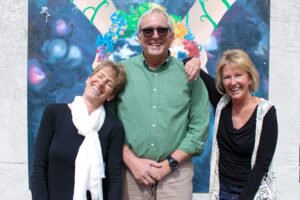 Ab

out

YouthZone
YouthZone currently serves over 1,500 youth and their families every year. We offer a wide variety of evidence-based programming through which our clients find safety, compassion, and education as they work to overcome the personal struggles they face.
At YouthZone, we believe that growth is possible for all our clients, regardless of history. We strive to help our clients see what is possible and support them as they learn and grow. Our unique, inclusive approach to fostering youth development is based in the understanding that the difficulties faced by today's adolescents are complex and multi-faceted. In service to this reality, we offer a wide array of programs that include a youth asset survey, parental guidance and support, individual and family counseling, restorative justice, court programs and monitoring, educational workshops, and much more.
Every day, the staff of YouthZone works to make a significant difference in the world by supporting the growth and development of the next generation.  We are team of passionate, creative and hard-working optimists who are as committed to each other as we are to the young people we serve.
---
Current Openings
The Substance Use Prevention and Intervention Specialist's primary responsibility is to provide group and one-on-one counseling and educational programs to youth clients who are experimenting with substances, or at risk for sustained use and/or addiction. The programs are to be offered at times and locations that work best for the clients and their families.
La responsabilidad principal del Especialista en Prevención e Intervención en Consumo de Sustancias es proporcionar asesoramiento en grupo y individual y programas educativos a los clientes jóvenes que están experimentando con sustancias, o en riesgo de uso sostenido y/o adicción. Los programas se ofrecerán a veces y lugares que funcionen mejor para los clientes y sus familias.
**Click job title to view full description.
---
Provide opportunities for youth to be responsible, contributing members of society and to work with their families and the community toward this end.
YouthZone is a great place to work!  We offer our employees a flexible, weekly work schedule; three hours of weekly exercise time; employee retirement plan; health insurance/wellness stipend; a positive working environment, and; the opportunity to be part of a wonderful team of professionals.
All offers of employment at YouthZone are contingent upon the candidate passing a background screening process that includes the Colorado Bureau of Investigation fingerprint check and Child Abuse Registry check. Client Service positions also require a pre-employment drug screen.  All YouthZone staff must also show proof of auto insurance, and submit a copy of diploma(s) and/or certificate(s) of training.
We strongly encourage black, indigenous, people of color, immigrants and LGBTQ+ people to apply. YouthZone is an equal opportunity employer and welcomes everyone to consider joining our team.  
 YouthZone is committed to inclusion.  
YouthZone advocates for equality.  
YouthZone has a long history of promoting justice. 
Aquí en YouthZone, alentamos fuertemente a las personas negras, indígenas, de color, inmigrantes y LGBTQ+ a aplicar. YouthZone es un empleador de oportunidades con igualdad y da la bienvenida a todos para considerar unirse a nuestro equipo.  
 YouthZone se compromete a la inclusión. 
YouthZone aboga por la igualdad.  
YouthZone tiene una larga historia de promoción de la justicia.