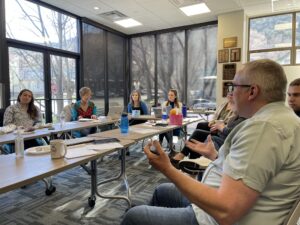 Ab

out

YouthZone
YouthZone currently serves over 1,500 youth and their families every year. We offer a wide variety of evidence-based programming through which our clients find safety, compassion, and education as they work to overcome the personal struggles they face.
At YouthZone, we believe that growth is possible for all our clients, regardless of history. We strive to help our clients see what is possible and support them as they learn and grow. Our unique, inclusive approach to fostering youth development is based in the understanding that the difficulties faced by today's adolescents are complex and multi-faceted. In service to this reality, we offer a wide array of programs that include a youth asset survey, parental guidance and support, individual and family counseling, restorative justice, court programs and monitoring, educational workshops, and much more.
Every day, the staff of YouthZone works to make a significant difference in the world by supporting the growth and development of the next generation.  We are team of passionate, creative and hard-working optimists who are as committed to each other as we are to the young people we serve.
---
 Current Openings
** Click job title to view full description **
The Bilingual Administrative Assistant position at YouthZone involves responsibilities related to daily operational tasks such as email handling, client scheduling, and data entry. The ideal candidate will have a passion for our mission, possess excellent communication skills, and be a detail-oriented individual with a high proficiency in MS Office programs and an ability to adhere to deadlines. This candidate should be bilingual in both Spanish and English with strong verbal and written communications skills in English and the ability to understand and to make oneself understood in Spanish.
Asistente Administrativo Bilingüe
El puesto de Asistente administrativo bilingüe en YouthZone implica responsabilidades relacionadas con tareas operativas diarias, como el manejo de correo electrónico, programación de clientes e ingreso de datos. El candidato ideal tendrá pasión por nuestra misión, poseerá excelentes habilidades de comunicación y será una persona orientada a los detalles con un alto dominio de los programas de MS Office y la capacidad de cumplir con los plazos. Este candidato debe ser bilingüe tanto en español como en inglés con sólidas habilidades de comunicación verbal y escrita en inglés y la capacidad de comprender y hacerse entender en español.
---
YouthZone is seeking a passionate Restorative Justice Coordinator to manage file records, contribute to grant reporting, maintain beneficial community relationships, and offer valuable trainings and education for community partners. The candidate should be an assertive advocate for youth, a detail-oriented problem solver with strong organizational skills, and bilingual, with experience in training or implementing Restorative Practices in schools.
Coordinadora de Justicia Restaurativa
YouthZone está buscando un Coordinador de Justicia Restaurativa apasionado para administrar registros de archivos, contribuir a la presentación de informes de subvenciones, mantener relaciones comunitarias beneficiosas y ofrecer capacitaciones y educación valiosas para los socios comunitarios. El candidato debe ser un defensor asertivo de los jóvenes, un solucionador de problemas orientado a los detalles con fuertes habilidades organizativas y bilingüe, con experiencia en capacitación o implementación de Prácticas Restaurativas en las escuelas.
---
With an analytical mind and a compassionate nature, Youth Advocates at YouthZone serve as coordinators, mentors, coaches and trusted adults for our youth clients. Youth advocates assess the strengths and the needs of each youth, then coordinate and monitor restorative activities, treatment plans, and other interdisciplinary care, while ensuring that court-mandated requirements are also met. On any given day, youth advocates may perform intake interviews, check in with clients, meet with parents, arrange resources, and complete reports and data entry.
Con mente analítica y espíritu compasivo, los defensores de jóvenes de YouthZone actúan como coordinadores, mentores, entrenadores y adultos de confianza para nuestros clientes juveniles. Los defensores de jóvenes evalúan los puntos fuertes y las necesidades de cada joven para después coordinar y controlar actividades reparadoras, planes de tratamiento y cualquier otro cuidado interdisciplinario al mismo tiempo que hacen lo necesario para que se cumpla con las exigencias dispuestas por el juez. Todos los días, estos defensores de jóvenes hacen entrevistas de admisión, seguimiento de clientes, reuniones con padres, solicitan recursos, además de completar informes y hacer entrada de datos.
---
The Mental Health Counselor will counsel individuals and groups to promote optimum mental health. The successful candidate will possess at least a basic knowledge of youth assessment, diagnosis of mental health concerns, designing treatment plans, and experience providing services directly to youth for their mental health concerns.
El consejero de salud mental asesorará a individuos y grupos para promover una salud mental óptima. El candidato seleccionado deberá poseer al menos un conocimiento básico de la evaluación de jóvenes, el diagnóstico de los problemas de salud mental, el diseño de planes de tratamiento y la experiencia en la prestación de serviciosdirectamente a los jóvenes por sus problemas de salud mental.
---
Provide opportunities for youth to be responsible, contributing members of society and to work with their families and the community toward this end.
YouthZone is a great place to work!  We offer our employees a flexible, weekly work schedule; three hours of weekly exercise time; employee retirement plan; health insurance/wellness stipend; a positive working environment, and; the opportunity to be part of a wonderful team of professionals.
All offers of employment at YouthZone are contingent upon the candidate passing a background screening process that includes the Colorado Bureau of Investigation fingerprint check and Child Abuse Registry check. Client Service positions also require a pre-employment drug screen.  All YouthZone staff must also show proof of auto insurance, and submit a copy of diploma(s) and/or certificate(s) of training.
We strongly encourage black, indigenous, people of color, immigrants and LGBTQ+ people to apply. YouthZone is an equal opportunity employer and welcomes everyone to consider joining our team.  
YouthZone is committed to inclusion.  
YouthZone advocates for equality.  
YouthZone has a long history of promoting justice. 
Aquí en YouthZone, alentamos fuertemente a las personas negras, indígenas, de color, inmigrantes y LGBTQ+ a aplicar. YouthZone es un empleador de oportunidades con igualdad y da la bienvenida a todos para considerar unirse a nuestro equipo.  
 YouthZone se compromete a la inclusión. 
YouthZone aboga por la igualdad.  
YouthZone tiene una larga historia de promoción de la justicia.