Community service isn't a punishment. Community service is the right thing to do. 
First and foremost, these opportunities are intended to show your child that they have always been enough to contribute in a positive direction for our communities. An added perk to participating; it offers an alternative to detention pre-adjudication.
At YouthZone, we are deeply committed to creating a global impact by fostering a sense of community spirit and personal development in our youth. Our community service programs provide countless opportunities for youth participation in a wide array of initiatives. Supporting a multitude of causes across different sectors, we believe in empowering the youth to be proactive change-makers.
Whether it's participating in local community clean-ups, assisting at the neighborhood animal shelter, or volunteering at a local food bank, community service underscores our commitment to molding the leaders of tomorrow. By promoting teamwork, personal growth, and social responsibility, we provide youth with a comprehensive understanding, appreciation, and commitment to positive social engagement.
As a cornerstone of our mission here at YouthZone, our community service projects are designed to develop a strong sense of civic duty among our young participants. We aim to create lasting change in communities by harnessing the potential, energy, and passion of young volunteers.
Dedicate your time and passion to your community with YouthZone.com's engaging community service initiatives. Be the change you wish to see! Come, join the cause, and let's work towards creating a better future together.
---
YouthZone's Friday and Saturday Service Programs offer our clients the chance to connect, on a deeper level, with the beautiful people that make up the communities of the Western Slope. We work alongside affiliated community nonprofits, which provide a structured investment in your teen's day. Additionally, community service is always done in the group setting which encourages teamwork and companionship. Since your teen's safety is not only your concern, but ours as well, you can rest assured knowing that a qualified YouthZone chaperone is always in attendance.
These group projects take place:
In Glenwood Springs every First and Third Saturday of the month
In Rifle every Second Friday of month
---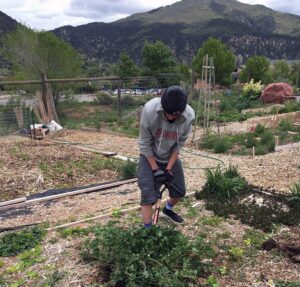 "Today I took the lengthy journey down to Glenwood to help assist in some community service. I did not know what I was going to be doing, but I expected it to be fairly boring. After a slightly disorienting journey from the bus stop to the YouthZone center, I was greeted by Sammy and told that we would be gardening. I had never gardened before so I kept my assumption that it would be boring. After a short walk we were greeted by a kind lady who maintained the garden. Shortly after, we began maintenance, like weeding and tilling the soil on unattended plots. While we were doing work, we were also educated on all of the different plants and vegetables that are grown in the garden. We worked for about four hours until it looked like it was going to rain. After we left, I realized that I had actually had fun gardening. Little did I know, I had fun after all but also found a new way to relax."
-- Merak M.