Sharlene (Sharla) Salinas recently joined YouthZone's team of youth advocates with a mission to bring lived experience and understanding to the organization's work. Sharla has a passion for mentoring youth and has always been intrigued by the criminal justice system. She believes that her diverse work history in education, legal work and health services will be an asset to her as she builds a foundation for her work at YouthZone.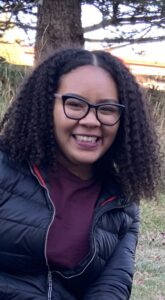 Sharla returned to the valley after acquiring a degree in sociology with a concentration in criminal justice and a minor in ethnic studies from Colorado State University. YouthZone has been on Sharla's radar for a while because she noticed YouthZone's efforts to improve the juvenile justice system and wanted to be a part of that herself.  
Sharla said, "I believe YouthZone is a great opportunity to mentor and assist youth to learn from their mistakes and stay out of the system." 
She has begun training for her role, but that requires a lot of shadowing, learning and flexibility. While there is a lot to learn Sharla is enjoying the process and is excited to see what a "regular week" will be once she has completed her training.  
Sharla is most excited to make an impact in the Latinx community in the region. She said, "I love knowing that the work I do matters and positively influences the lives of the youth in our community." She knows that representation matters. 
Sharla describes herself as passionate, caring and observant. When she isn't at work, Sharla enjoys hiking on local trails with her friends. She loves to be with her family and friends enjoying their company, but with her solo time she likes to indulge in True Crime documentaries.  
In her role at YouthZone, Sharla hopes to be the friend and mentor that she needed growing up. She wants to be someone who can understand the experiences of children of color in the school system, sharing her story in an effort to encourage and support local youth. With her perspectives and ideas, she hopes to make positive changes within the organization and the community at large.