GLENWOOD SPRINGS, COLO. (April 4, 2021) – YouthZone's evolution from an activity-based youth program in the 1970s to a full support network for teens and families who are in crisis or need legal help has required strong leadership through the last 45 years. Jami Hayes, recent Vice Principal of Riverview School, is next in line to lead YouthZone as the new Executive Director.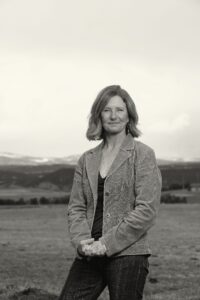 "I am honored to serve our community through YouthZone as Executive Director.  My work in the Roaring Fork School District over the last 14 years and in education for the last 20 has provided opportunity to work closely with youth and families as an advocate for equity and social justice," Jami said.
YouthZone uses Restorative Justice to bring kids in trouble full circle to understanding their behavior's impact on the community around them. In her leadership role at Riverview, Jami understood that restorative agreements and connection circles in school settings yield a higher impact to resolve issues.
She worked with staff to develop nonpunitive, non-adversarial and trauma-informed decisions.
Jami's long history of engagement with early literacy development and education trends were blended with concern for advocating for youth and family in academic learning, socio-emotional growth and mental health advocacy. The underlying base of Jami's work addressed equity for the children and families in resolving problems. She is ready to bring that focus to YouthZone.
"I look forward to learning from staff, our board, partners and our community to ensure a smooth transition, keep current initiatives and projects going strong while we explore opportunities for growth to increase our reach and impact," Jami said.
Although she is already engaging with staff, Jami officially begins working with YouthZone April 12. Current Executive Director Lori Mueller will stay on board to help with the leadership transition until summer 2021.