The growth of the Black Lives Matter movement along with the additional social unrest that followed the death of George Floyd in 2020 led many individuals and businesses to reflect on how their actions might negatively impact others around them. YouthZone's process of self-examination began with a concrete effort of staff engaging in reading and conversation about social equity.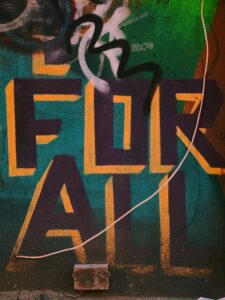 To build on those first steps, Jordan Curry Carter, LLC, a Diversity, Equity, Inclusion and Anti-Racism Educator, led a series of meetings and discussions with employees to determine how they could better address equity between themselves and with their clients.
Staff members volunteered to be a part of the Core Race Equity and Action Team, CREAAT, to create a sustainable, safe, comfortable and enriching environment at YouthZone. Mary Bess Bolling, Stefanie Maurice, Sharla Salinas, Bianca Godina and Keith Berglund actively lobby for processes, programs, structures and policies at YouthZone which are anti-racist and equitable.
The intent of CREAAT is not to target or discipline people. Instead, the goals are to review YouthZone policies, procedures, processes and structures; research what other organizations are doing around DEI; and recommend discussion topics. Including employee concerns and suggestions for future topics allows for the entire staff's engagement.
"I think it's important that we're giving a voice to all our clients and doing our best, as a majority white staff, to see a perspective that we haven't lived. Working to create equity for all our clients is crucial. We are a human services agency so I feel like if we are not doing that, we are missing the boat," Courtney Dunn, YouthZone's Trauma and Youth Specialist, said.
Current action items for 2021/2022 for CREAAT include:
Increasing fundraising efforts in the LatinX community
Developing a training budget specific for DEI education
Incorporating more diversity in our marketing images and efforts
Evaluating staff compensation for translation and interpretation services
Auditing all YouthZone forms to include culturally sensitive terms
YouthZone is a client-first organization. The communities in the YouthZone geographic region are 30% Latinx and that number is reflected in the clients and families being served. To be successful, YouthZone needs to be accessible and culturally responsible to all that they serve.