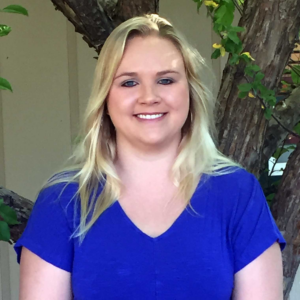 Sometimes a journey with YouthZone can turn into a lifetime with YouthZone. At least, that's the story for YouthZone's Trauma and Youth Specialist Courtney Dunn.
Courtney's journey with YouthZone began shortly after she indulged in alcoholic beverages before a school dance at 16 years old. This introduction to our organization became an internship in 2011 as Courtney worked towards an undergraduate degree in human services. She continued her work as a Pals Case Manager with YouthZone after acquiring a degree (Pals is a previous mentoring program hosted by YouthZone). This was followed by her time as a court youth advocate, which attributed to much of her personal growth.
Courtney's relationship with YouthZone continued to develop as she worked towards her Master's degree in Social Work. Courtney returned to YouthZone this July to serve our community through individual and group counseling services.
"Trauma work has become my passion. It appears that trauma is at the root of most issues, so being able to support youth through their trauma at a young age using evidenced-based and truly effective therapy models is amazing," Courtney said.
Courtney is also proud of the time she spent with the Aspen School District, where she was responsible for substance prevention and intervention programming for three years. Courtney enjoyed working within the school district she actually grew up in, as well as gaining a better understanding of how school systems work.
Courtney now combines these experiences within her work for YouthZone. A typical day for her consists of anything from counseling appointments to substance education and intervention appointments, or even occasional youth advocacy.
Though she loves her job, Courtney experiences both rewards as well as frustrations. She loves nothing more than being a trusted adult in a child's life. For Courtney, it is an honor to be someone who gets to hear their story and watch them gain new confidence, autonomy, and build perseverance. Sometimes it is difficult to be the person who wants positive change for a person when they are neither ready to accept these positives nor put in the work for them.
Despite the challenges of her work with YouthZone, Courtney still feels incredibly lucky to be doing the work that she does. In her childhood Courtney wanted to be a therapist which later blossomed into a specialization in trauma counseling. While living her childhood dream, Courtney claims, "I really cannot see myself doing anything else."
Today Courtney lives in Glenwood Springs with her husband, Rich, their son, Chase, and their two dogs. They enjoy spending time at home, watching movies or enjoying family time on the deck. On their more adventurous days, her family takes to the trails to enjoy some four-wheeling or a night of camping.
"I ended up back at YouthZone because YouthZone is where my heart is. It feels like home. I am passionate about YouthZone's mission and I love my coworkers. YouthZone has an incredible team," Courtney said.