Claire Hemme
Communications Coordinator
For the past five years, the YouthZone Ascent fundraiser has showcased local youth talent on the stage. The rising threat of COVID-19 this spring meant that it was time to get creative. This year, the 2020 Ascent Event is featuring a virtual youth film festival showcasing the complexities of today's world through our youth's eyes.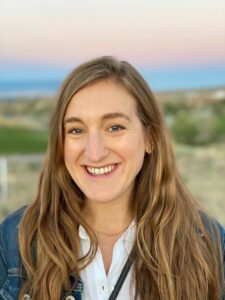 To get the process started, YouthZone's Development Director Carol Wolff reached out to Hannah Pike to mentor the filmmaking process for this year's young participants. Hannah's passion for education through film began when she participated in her first youth film education program at Aspen Film. Since then, she's developed her skills in directing, producing, and even hosting both recorded and live productions.
"Hannah really gets them fired up when she's talking to them, she's so engaging. It's fun to watch her get these young people excited about their projects," Carol said.
Hannah cheerfully says that she's, "rolling with the punches of COVID," while she continues working with these young filmmakers. 
Direction experience has proved to be vital in mentoring this year's participants. Hannah has worked with the kids from the beginning to help them develop their stories and plan out their timelines. 
Hannah's approach to mentoring involves check-ins and open availability. The process began with individual zoom meetings that solidified storylines and established timelines for productivity. This was followed by relentless emailing and check-ins. However, she eventually found that giving the kids some room to breathe has proved more effective. 
"I'm there for feedback and support, but I'm letting them do their own thing," she said.
Despite the ability to virtually connect, Hannah says that doing this without meeting in person has been really hard. Staying in consistent contact has been increasingly difficult. Without meeting face to face, it seems that accountability and motivation are much more difficult to muster.
The challenges of mentoring through a pandemic have given Hannah an even deeper understanding of how important it is to have artistic means of expressing one's own voice. Hannah said she has been blown away by the creativity and originality of the students' ideas. She particularly enjoys how vibrant and creative high schoolers are. 
"Talking and connecting with the kids is easy, I love their ideas and talking to them."
Even though it's been hard to collaborate, she says that the youth she's working with are very independent, and she's impressed with their willingness to share their personal narratives. The best part for her is facilitating a creative way for people to feel heard, expressed, and creative. 
Hannah's passion was obvious when she said, "Finding this earlier is what brings you into being your true self as an adult. If you're empowered to speak up and find your voice, you can be unstoppable."
Hannah admires the strength of the kids she's working with. This experience, while challenging to do remotely, has taught all of them a lot about adaptability and support. 
Hannah's goal throughout this process is to be available to help the kids in any way possible, to be there for them to learn about themselves as well as film. She hopes to show them the possibilities of the paths they could walk through film. "These kids need a creative outlet, that's what YouthZone does… help them be heard," she said.
The 2020 Ascent Youth Film Festival begins with an online auction on Sept. 23, and the film festival will be presented on the evening of Sept. 25. To view these films and support YouthZone you can purchase tickets by clicking here.