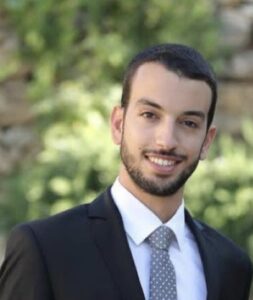 Restorative Justice Coordinator Rami El Gharib seeks opportunities to blend the vulnerable population of our diverse communities into a safe space through his new role with YouthZone. 
Community building and conflict resolution are what interest Rami the most in his new position.
Born and raised in Beirut, Lebanon, Rami came to the United States in 2018 to pursue a master's degree in Industrial and Organizational Psychology. Such a degree provides specialization in human behavior and problem-solving, things Rami focuses on daily.
Restorative Justice involves repairing the harm created by criminal acts. This means bringing offenders, victims, and the community together to restore harmony and find resolutions. This process works to help reintroduce the offender to the community as well as providing the opportunity for a victim to find closure, and perhaps even peace after an incident.
Rami's role as Restorative Justice Coordinator entails coordinating restorative conferences, training community members on restorative processes, and working with the community on implementing a restorative culture.
YouthZone's Assistant Director, Keith Berglund said, "In addition to being well-versed in the most current Restorative Justice standards, Rami brings a fresh perspective on how to best use these practices in support of the youth we serve."
Since graduating, Rami has worked as a consultant, a human resources coordinator, a training and development intern, and a project coordinator. Each of these positions gave Rami a new view of public service and restorative justice. 
While at the Arab Foundation for Freedoms and Equality, he recruited and trained data collectors to properly communicate, gather, and input data. He also gathered data from over 250 gay men in Lebanon on anxiety, depression and discrimination. The data will be used in research that will influence future policy-making in Lebanon. 
While working with the Integrated Refugee and Immigrant Services, Rami screened interns and volunteers, managed the volunteer orientation, updated the database for interns and volunteers, and facilitated the cultural orientation experience for refugees and asylees. 
Most recently, Rami has worked for the Tow Youth Justice Institute on training and development and project coordination. There he developed a process to resolve conflicts between students living in the University of New Haven's student housing. He also consulted with several youth serving organizations, gathered data on their workplace challenges and developing a restorative justice process they could follow.
"I have always had a passion for working with youth and vulnerable populations. The restorative culture that is present in YouthZone and its leadership truly inspired me to want to work with the organization."
Rami is excited to continue YouthZone's Restorative Justice work in new ways to help find the best method of incorporating restorative justice into the community. He admits that it can be difficult to weave restorative justice into the fabric of an existing norm within a community.  "It can be difficult especially when many community members are hesitant to approach a new method to deal with conflict and harm." 
Despite its challenges, Rami finds that working with diversity within a community is incredibly rewarding. He loves learning about the various struggles among the different communities he works with. Rami says he truly enjoys watching the impact his work can make in a community. 
Rami's goal for his time with YouthZone is to build an inclusive, restorative environment for the region. He wants to begin by including more youth in the restorative process. By doing so, Rami hopes to see a decrease in youth criminalization. 
In the future, Rami plans on acquiring a Ph.D. in conflict resolution. He hopes to use his training and experience to bring Restorative Justice to his home in Lebanon.