YouthZone was one of five local nonprofits selected to work with Anderson Ranch this August on a public arts initiative supported by the City of Aspen. Members of the artistic staff at Anderson Ranch worked with each nonprofit to bring visibility to their missions through artistic collaborations. The created artworks were reproduced as outdoor-scaled banners that are being installed throughout the city of Aspen.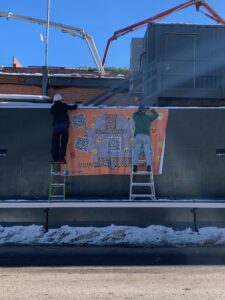 Louise Deroualle, the art center's studio coordinator for ceramics, and Zakriya Rabani, the studio coordinator for sculpture, elected to work with YouthZone. The banner design implemented QR codes to allow viewers to scan and learn about YouthZone's mission of helping youth in local communities. Emojis were used to convey emotions and expressions to connect with the younger population and use humor as a way to talk about serious topics.
Zakriya created a line drawing for the background to symbolize flow using colors that are all-inclusive of gender, ethnicity, backgrounds and cultures. The multitude of lines reflects the idea of spiraling, natural growth and togetherness, where hard work can create something beautiful.
The YouthZone/Anderson Ranch banner will be installed at 312 E Hyman on the Monarch side of the street in Aspen. Outdoor exposure will provide a safe, socially distanced art viewing experience. Visitors will be encouraged to start a community dialogue about each installation on view.
Anderson Ranch has budgeted a donation of $1,000 additional funding support for each nonprofit as an incentive to participate in the project.