YouthZone recently gained a new member of the team. Bianca Godina will be temporarily fulfilling the Administrative Assistant position.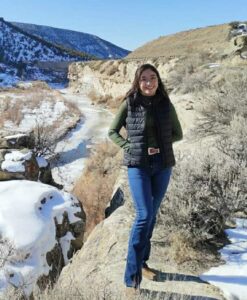 Bianca's decision to work with YouthZone is largely influenced by her goal to obtain a master's degree in psychology. Bianca is at Colorado Mountain College pursuing a dual major Associates of Arts and an Associates of Arts with a concentration in communication. She believes that her work with our organization will help her gain insight into her future of counseling and psychology. 
During her time at YouthZone, she will welcome clients, organize appointments, keep up with daily communications, and work with the staff to keep things moving. Bianca's work will be essential in maintaining organization while our Administrative Manager is on maternity leave.  
So far, her favorite part of the job is building connections. She believes that strong connections and support systems help move our lives forward and promote growth. Bianca said, "I love the idea that we can help our clients find the appropriate connections." At YouthZone she gets to watch how different jobs function and form connections in real-time. 
Bianca's only frustration is keeping up with the massive amounts of information she has received as training for her new duties. Despite having so much to learn, she is becoming more comfortable in this new role each day. 
"Thankfully the support system in our work environment is extremely helpful, and everyone is willing to help and answer questions," Bianca said. 
Bianca describes herself as outgoing and "always smiling." In her free time, she enjoys the performing arts, hiking, and lots of time with her family. We are excited to know that Bianca's bubbly personality will be the first point of contact with clients as they come through our doors.