Blanca Lara has joined us from Metropolitan State University to intern with YouthZone while she finishes up her last year of studying on her way to becoming a Licensed Social Worker. She chose this nonprofit to enrich her education because she believes in our mission to help youth and families. Blanca is only a few weeks into this role and has already begun helping our restorative justice coordinator with volunteer trainings.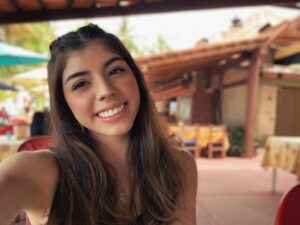 Blanca said, "I love the fact that the focus is making a change in youth's life, but it also dives deeper. The coaching, mentorship and outreach YouthZone has within the program makes it a unique organization." 
Blanca grew up in the Roaring Fork Valley and has always had a passion for improving her community. She wants to help the valley become an uplifting, inviting place for youth and adults. She said, "I want to advocate and plant a healthy seed in those that need guidance in their journey through development." Blanca's goal for her time with YouthZone is to bring encouragement, transformation and healing to families and youth. 
In a typical day at YouthZone, Blanca spends her time soaking up every bit of information she can. She spends time shadowing counselors and youth advocates as they interact with clients. She also attends staff meetings to gain an understanding of how YouthZone operates. Through this exposure, Blanca is getting to experience and become a part of the journey.  
Blanca's favorite part of working with our staff has been interacting with an organization that she has watched make a difference in her community while growing up. It brings her joy to be a part of something that is making a difference in the lives of local families.  
Blanca is a passionate, motivated person in and out of the workplace. She describes herself as a social introvert, Blanca said, "I enjoy getting to meet all sorts of individuals, but I also enjoy my alone and quiet time." She also enjoys reading, going outside, and spending quality time with her dog.