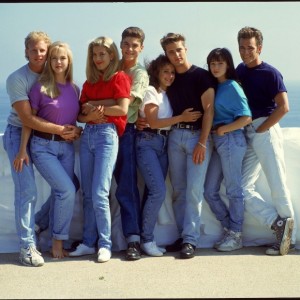 As the 1980s transitioned into the early 1990s, we saw the fall of the Berlin Wall in 1989 and the end of the Cold war, only to soon find our nation entrenched in a war in the Gulf after Iraq invaded Kuwait in 1990.  At home, teens in the United Sates followed the lives of twins Brandon and Kelly and their wealthy friends on the popular show Beverly Hills 90210 while heavy metal hair bands were leaving the scene to make way for a new style of music – Grunge.  Parents all over the Valley began wondering . . . when did fleece become cool?
Here in Colorado, Youthzone was getting ready to "Catch a Calf" in 1989 … an effort that would eventually make way for the popular "Kiss-n-Squeal fundraiser that began in 1992.
After more than a decade of service, Patti Phelps retired in 1990, and YouthZone's Debbie Wild took the helm and would lead the organization for the next 25 years.
In 1993, YouthZone's 10,000 Hands fundraiser (to raise money for the Glenwood Springs building expansion) received the support of singer/celebrity Frankie Valens.  The fundraiser was a success and building expansion was completed in May of 1994.
In the early 90s, a survey showed that 3.7% of middle schoolers and 19.8% of high school kids were using marijuana.  Project Charlie, a drug prevention program for elementary school kids began in 1994.
As we all settled in to the middle of the decade, the Turtle Poker Run fundraiser began in 1995.  Established in honor of Stella "Turtle" Tucker, who was killed by a drunk driver, the Turtle Run motorcycle ride from Grand Junction to New Castle is a YouthZone fundraiser that continues on, allowing us to remember Stella, while also providing generous donations to YouthZone and the work we continue to do going forward.