Attorney General Weiser praises local approach to YouthZone
KDNK | By Hattison Rensberry
Published May 10, 2023 at 8:04 AM MDT
Listen to interview on KDNK's website.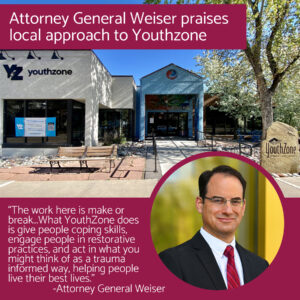 Colorado Attorney General Phil Weiser recently dropped in to YouthZone's headquarters in Glenwood Springs. The organization receives grant funding from his office.
While in the valley for his listening tour, Attorney General Phil Weiser visited the Glenwood Springs Youthzone branch. KDNK's Hattison Rensberry met him there, and asked about how Weiser's office and their teen mental health grant continues to be involved with YouthZone.
"Weiser:
The work here is make or break. A lot of young people, they're living with a lot of trauma. They're struggling in the midst of potentially very dangerous behaviors. Drug use, getting involved in criminal justice system. What YouthZone does is give people coping skills, engage people in restorative practices, and act in what you might think of as a trauma informed way, helping people live their best lives.
As I think about one of the core challenges that we as a society face, its youth mental health, and as I look across our whole state youth zone is a model for what it means to help young people.
Rensberry:
What's that growth looked like since that grant went out in the first place?
Weiser:
I just got the report today. When we were here two years ago, there were 10 employees. They're now 16 employees, and they're growing from here. This is the sort of community connective tissue that we need because the more people know one another can refer to one another. And the culture here is really smart because they don't use the criminal justice system to punish young people.
They use the criminal justice system as an opportunity to ask what's going on with you? How do we put you on a better path? The way this community has supported Jamie and YouthZone is really a model from the district attorney to local businesses, to other nonprofits. This is what I believe communities should show up as."