Carving Joyful Pathways – Celebrating Carol Wolff's Retirement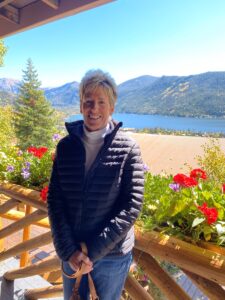 Terming Carol Wolff's journey at YouthZone as just a career would be a humble understatement. It has been an era marked by dedication, passion, and a relentless zeal to bring positive change. As she passes the baton and embarks on the golden phase of retirement, the YouthZone family stands in applause and reverence, reflecting on all that she has brought to our organization and community as the Director of Development.
Carol's enthu
siastic spirit and dedication have marked an indelible imprint on YouthZone's canvas. However, as the adage goes – all good things must come to an end – and the time has come for Carol to reinvent the direction of her compass toward a personal milestone: Retirement.
Retirement often signals a time to explore life at a different pace, embrace new adventures, and enjoy the simple pleasures of life. Carol has embarked on just that journey. With retirement offering opportunities for unhindered exploration, Carol has been reveling in the flavors of travel, creating warm memories with friends and family, cherishing the joy of unhurried mornings, tending to her garden, and the gift of time.
Though Carol's daily presence will be missed at YouthZone, her legacy will continue to inspire us. As we fondly bid adieu to Carol, we take this moment to express our heartfelt gratitude and farewell and also to celebrate her glorious journey at YouthZone and the exciting new chapter that awaits her.
Here's to Carol – to a magnificent past and an even more magnificent future, adorned with joy, discoveries, laughter, and a bouquet of enriching experiences. Happy Retirement, Carol!