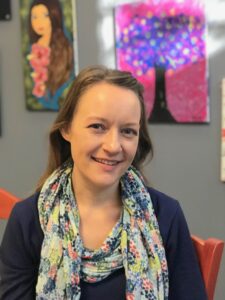 Katie Westcott's post college travel triggered a desire to work with kids, but in a structured environment where she felt she'd be able to do the most good.
As a Youth Advocate II at YouthZone, Katie combines her expertise and experience with compassion. She works with youth as a mentor and coach so she can be a trusted adult in their troubled lives. As part of her work, Katie assesses each young person's strengths so she can coordinate and monitor the activities they need to accomplish to take care of court-ordered requirements.
After Katie graduated from Colorado State University in Fort Collins, Colorado, with a degree in Latin American Studies and Spanish, she wanted to travel in Central America. She saved enough money working in a coffee shop and hardware store to give her the means to spend a couple months in Guatemala where she worked and lived at JesuCristo Es Mi Casa, an orphanage in Guatemala City.
Although she values the experience, the orphanage was more chaotic than she expected. Some children were left there for a short time when struggling families couldn't take care of them, and other kids remained there for an indeterminate time.
When she returned to the U.S., she knew she wanted to continue working with children, but in an environment that would have a lasting positive impact. She reconnected with Lee Price, a youth pastor from Fort Collins who had moved to the Western Slope. He offered her a job at the River Center in New Castle in 2014 where she could use her Spanish language skills to coordinate outreach within the Latino community. Eventually, she took on the role of assistant director at the center.
While working at the center, Katie solidified her career path in social work by completing her master's degree in Psychology with an emphasis in Health through Grand Canyon University.
When YouthZone received grant money to support families needing resources from multiple entities throughout the county, Katie accepted the position of Wraparound Facilitator. She and her coworker Amanda Vaughn worked with families throughout the county to help families find the resources to take care of themselves based on individual family needs.
The Garfield County Coalition for Families split from YouthZone last summer, but due to changes in the program in its new independent role, Katie found herself ready to make changes too. She returned to YouthZone in a Youth Advocate II position and now works with young clients in the western half of the county.
Her work with youth with lower level offenses through a one-on-one support system helps guide the kids back on track. She goes to court with them, works through a YouthZone assessment, and helps make a plan with the courts to address their offenses.
Katie said a lot of time the offense is just the tip of the iceberg of why a youth got into trouble. There are underlying issues that often need to be addressed. Katie said in her role as a Youth Advocate, she can push for other solutions to help kids and families, including access to counseling, access to substance use classes, and access to parenting education classes.
When mandated, she directs kids toward a YouthZone's Restorative Justice circle. She has the support of Jennifer Hawks, YouthZone's Senior Advocate, and Tina Olson, the Clinical Supervisor, when she needs to coordinate more extensive treatment like detox.
At a back-to-school session at the Rifle High School earlier this fall, the principal John Arledge asked Katie about YouthZone resources to educate parents and staff about vaping. Katie put together a power point presentation for the staff and plans to present this again to parents at Cactus Valley Elementary School in Silt.
The vaping presentations led to an idea to create parenting education classes for the Latino community in the next few months. As she settles into her position as youth advocate, she'd like to do more community outreach and education.
 "It's important the community is aware of what youth encounter today and learn new skills to help them cope in a healthy way," Katie said. YouthZone provides access to resources that allow kids to make up for mistakes in a safe environment. They have a 90% success rate of keeping kids from being repeat offenders.
Asking a kid to pick himself up by his own bootstraps is not enough, Katie said. Sometimes it takes a community of support.