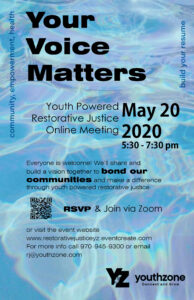 In partnership with Roaring Fork Leadership, YouthZone will host a digital Youth Powered Restorative Justice Summit on May 20. Teenagers from Parachute to Aspen will be able to express how they can help in their community.
YouthZone's Restorative Justice Coordinator Karen Barbee said there is a growing group of youth who want to be heard, be healers and strengthen community bonds. Involving youth in YouthZone's Restorative Justice program gives them a voice in community restoration.
With guidance from adults, young people can develop skills to sit in the Restorative Justice circles that address adolescents who have committed harm to themselves, their neighbors and their communities. Through monthly trainings as peer facilitators in a Restorative Justices circle, these young volunteers can learn how their voice and wisdom can add perspective to a situation.
Karen has been inspired by movements that are for youth and led by youth. When the Parkland shootings happened in Florida, Karen said our local high school teens organized to honor the students and staff that were killed and injured. Standing in silence with these young people as they called out one name each minute was profound, she said.
Karen believes the voice of our youth needs to be engaged before tragedy in order to strengthen and heal communities.
"Youth have power to support peers with the guidance of adults. They wouldn't be ready to take on the gauntlet of the RJ process completely, but this will provide them the tools to refine their skills," Karen said.
To learn more about how to use Restorative Justice to give their voice power, how to use Restorative Justice to heal and how to build bonds in your communities at the youth-powered event on May 20, regional youth can get an invitation to the Zoom summit by emailing [email protected].