Hand-In-Hand towards Empowered Parenting and Thriving Youth this Back-to-School Season
By Sarai Quintana
The bell tolls the start of a new school year, signaling more than just a return to classrooms and homework. It heralds a season of change – transitions, challenges, transformations – for our youth, as well as the adults who fiercely love and support them. As the Parent Education and Community Outreach Coordinator at YouthZone, I am delighted to welcome you to a place of support, understanding, and empowerment during this season.
In the halls of YouthZone, we've always stood as champions for our community's youth, striving every day to lend guidance as advocates and mentors. Although paramount, we realized that we could make the journey smoother and more rewarding for our youth by extending this network of support to their parents and guardians.
Inspired by a vision to fill this gap in service, we have created my role – a dual-faceted position dedicated to empowering parents and fostering community outreach. It's a significant step towards reaching our goal: supporting not just our children, but their families as well.
The back-to-school season often presents a unique set of challenges for both students and parents. It is crucial to understand the toll these transitions take on growing, impressionable minds and the people entrusted with their care. Unlike adults, children are still developing emotionally and mentally, making the transition to the structured school environment more arduous. Compounded by the singularity of each child's needs and parental duties, these transitions often become increasingly complex. Parents juggle a world beyond their children, managing work commitments and personal struggles while striving to address the individual needs of every child.
At YouthZone, we recognize that this calls for a careful balancing act and a more comprehensive, two-generation approach to support. We support parents in understanding their children's dynamics by providing educational resources and tools that align with the work we do with their kids. These include education classes on topics like substance use and workshops on youth brain development to improve communication and understanding of their children's behaviors.
We also focus on creating a sense of community through shared experiences. Parents can join peer support groups to realize they are not alone in their struggles, share their stories, and learn from others who wrestle with similar challenges. This fosters a sense of interconnectedness, a support web of families who rally around each other, and a community underpinned by empathy and hope.
Concurrently, we assist parents in tackling more pronounced struggles such as securing housing, mental health resources, and employment opportunities, by pointing them in the right direction with referrals to various established organizations and agencies.
Collective efforts weave the strongest nets of support. To bolster our mission, we foster partnerships with school districts, community organizations, and resource centers, from Aspen to Parachute and across the Western Slope of Colorado. These partnerships are crucial community pillars that uphold our shared goal.
Our parent-focused programs aim to reach youth through families by providing consistency in all areas of a youth's life. We recognize the unique needs of each individual and our youth advocate creates personalized strategies to address their concerns. However, sustaining positive change requires providing guidance to parents as well.
Consider a child who performs well at school but struggles with time management at home due to parental absence or work commitments. YouthZone helps the parent understand their child's needs at home, encouraging them to check in with their child even when they're not physically present. This seemingly small step of communication lays the foundation for stability, making the child feel safe and supported.
In essence, YouthZone becomes a partner in this intricate dance of parenting, providing solutions to a myriad of obstacles and accountability. From time management, healthy habit-formation, addressing mental health issues, substance use, loneliness, friendships, and grades, to identifying crises and societal pressures – our staff works to assist both parents and students adapt and triumph.
YouthZone exists for you, the loving parents, the guardians, the everyday heroes. Punctuating our commitment to this goal, I say with profound conviction and assurance, " You're not alone; we're here, ready to walk this rewarding journey with you, hand-in-hand. And we stand by our mission to create a healthier, stronger family structure, that is weaving an intricately connected, thriving community."
---
YouthZone is a family-first nonprofit that supports parents and guardians, families, and adolescents. From Aspen to Parachute, we offer parent counseling and education services, family resources, and comprehensive assessment and advocacy to inspire healthy relationships between youth, families, and communities. To learn more about how YouthZone can help, please call us at 970-945-9300.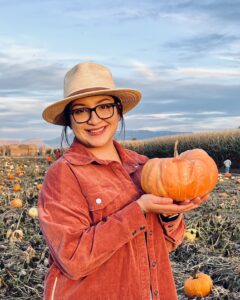 Sarai Quintana was born in Chihuahua, Mexico, raised in Dallas, Texas, and moved to the Roaring Fork Valley in 2014. For the last 9 years, she has worked closely with youth and their parents in her communities. Some of Sarai's background and skills include Prevention Work Models, Motivational Interviewing, Trauma Informed Care, Case management, and adopting a multi-generational approach when working with families. Sarai is also bilingual and bicultural; and understands the different cultural views within the Latino Community. In her spare time, Sarai enjoys practicing her photography skills, hiking, and trying out new restaurants.