By Staff
Claire Hemme's journey to YouthZone began with an unplanned raft guiding position. After graduating from West Virginia University in the midst of the Covid-19 shutdown, Claire wasn't sure how she would find a job.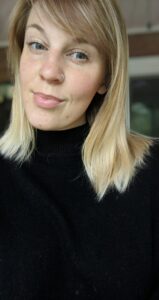 As the pandemic raged on, callbacks became fewer and fewer. Searching for a job had become exhausting and fruitless. She was introduced to Americorps by a friend and applied to some VISTA programs before she moved to Cotopaxi, Colorado, to river guide on the Arkansas River.   
 "I never imagined that I would just move to Colorado in 48 hours, but I'm so glad that I did. Possibilities have seemed endless since I came here and started working with YouthZone," Claire said. 
Just a few weeks into her time in Colorado, Claire began to get some callbacks from the Americorps programs, which included YouthZone.
Claire graduated from West Virginia University with a degree in Strategic Communications. She has worked with West Virginia Public Broadcasting, and most recently the American Civil Liberties Union of West Virginia. She specializes in digital media and is very passionate about storytelling.  
Through Americorps, Claire was selected as YouthZone's new communications coordinator. Her background in media makes her a great fit for the position. She jumped onto this team during the preparation of YouthZone's largest annual fundraiser, and things have been nonstop for her since she got here. It's been hectic, but she says she wouldn't have it any other way. 
Claire wanted to work with YouthZone because she loves people, and greatly respects what YouthZone does for our communities. She said she feels lucky to work among so many talented professionals and wishes there would have been resources like YouthZone where she grew up.  
There is no average day here for Claire. She wears a lot of different hats. She writes, manages, and plans social media, and works with the staff to improve Youth Zone's media presence. Her favorite part of the job is the graphic design work she gets to do for events and social media.  
Although she has enjoyed taking on so much so quickly, Claire admits that the rapid introduction to this organization has been a little overwhelming at times. In a very short amount of time, she has had to adapt to a new home, a new job, and jumping into the depths of planning for the annual Ascent event.  
"I never really know what to expect out of a single day, but that makes it so exciting. I really enjoy how quickly things change and develop here," Claire said.  
While she is still adjusting to her new life here in Glenwood Springs, Claire is already busy exploring the area and the adventures it offers. She spends her weekends hiking, rafting, and seeing as much as she can. In the coming year, Claire hopes to help YouthZone grow its media outreach and strengthen its online presence in order to reach more families in the community.