Generous Donation from Glenwood Springs Kiwanis Club Supports Critical Building Upgrade at YouthZone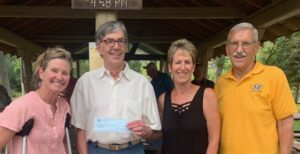 YouthZone is thrilled to share the news of a significant contribution made by the Glenwood Springs Kiwanis Club toward improving our facilities. On July 17, 2023, a check of $4500 was presented to Jami Hayes, the Executive Director of YouthZone, bringing a much-needed HVAC upgrade within reach.
The donation was made possible by the joint efforts of Kiwanis Rocky Mountain District, providing $2500, and the Glenwood Springs Kiwanis Club, adding $2000 to the fund. This financial support will go a long way in enhancing the building's functionality, ensuring a comfortable and conducive environment for the youth we serve.
During the heartfelt ceremony, Steve Smith and President Steve Pawlak represented the Glenwood Springs Kiwanis Club as they presented the check to Jami Hayes. Carol Wolff, who is not only involved with the Kiwanis Club but also serves as the Director of Development for YouthZone, exemplifies the strong partnership and dedication shared between these two organizations.
The Glenwood Springs Kiwanis Club's generous gesture will have a lasting impact on the lives of the youth and the overall success of YouthZone. The organization is sincerely grateful for their support in making a difference within the community.