Empowering Youth: Alpine Bank's
Generous

Donation to YouthZone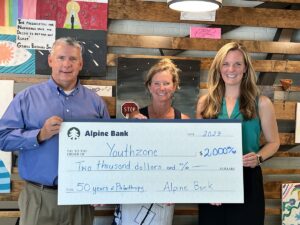 In a shining display of community support, the dedicated employees at Alpine Bank have directed a significant donation of $2,000 towards Youthzone and our commitment to empowering young individuals. This overwhelming act of generosity by Mely Irigoyen, Devvon Glasenapp, Rafael Medina, and an anonymous contributor underscores the strong commitment of Alpine Bank to the communities it serves. Let's delve into the impact this donation will have on Youthzone's mission.
Empowering Youth through Youthzone
Youthzone is a nonprofit organization dedicated to providing comprehensive support services to at-risk youth, empowering them to make positive life choices and succeed academically, emotionally, and personally. By offering programs and initiatives ranging from mentoring and counseling to restorative justice and peer support groups, Youthzone strives to create a safe and nurturing environment for young individuals to thrive.
Making a Difference
The $2,000 contribution from the compassionate employees at Alpine Bank will greatly augment Youthzone's efforts and contribute to their continued success. This donation will play a significant role in expanding the availability of existing programs, enhancing the quality of services provided, and ultimately reaching out to more vulnerable community youth in need.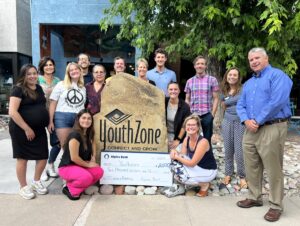 The impact of this donation extends far beyond monetary value. It serves as a powerful symbol of community support and solidarity. It signifies that businesses like Alpine Bank recognize the importance of investing in the next generation and believe in the inherent potential of young individuals.
Joining Hands for a Brighter Future
As Youthzone continues its crucial work in supporting at-risk youth, the importance of ongoing contributions cannot be overstated. Whether you are an individual, an organization, or a fellow business, consider how you can make a difference in the lives of young individuals in your community. Together, we can help shape a brighter future for generations to come.
The impactful donation of $2,000 from the employees at Alpine Bank to Youthzone demonstrates the bank's deep commitment to nurturing the potential of at-risk youth. This act of generosity will aid in expanding Youthzone's vital programs, ultimately creating a positive ripple effect in the community. It serves as a powerful reminder that, when we come together with a shared purpose, we can effect positive change and empower the next generation.
Furthermore, the donation from Alpine Bank will continue our fundraising efforts for the YouthZone Scholarship Fund. The goal is to raise $10,000 to support kids who are unable to pay the $150 assessment fee for our services. With your help, we can ensure that every young individual in need has access to the support and resources they deserve.
We encourage you to join us in making a difference. Your donation, no matter the amount, will contribute to empowering at-risk youth and giving them the opportunity to thrive. Together, we can create a stronger and more inclusive community where every young person has the chance to succeed.
Donate today to the YouthZone Scholarship Fund and help us reach our goal of $10,000. Your generosity will have a profound impact on the lives of these deserving kids. Together, let's support their journey towards a better future.