A Fresh Perspective: My Experience as a Restorative Justice Intern at YouthZone
By Caleb Thompson
As I prepare for my freshman year of college, I have been fortunate to have the opportunity to work as a Restorative Justice Intern at YouthZone. This internship has not only taught me valuable lessons about nonprofit work and professionalism, it has also deepened the connection I have with the community I grew up in.
In my last year at Riverside Middle School, I had the chance to work as a peer mentor. This position gave me firsthand insights into how similar the so-called "bad kids" were to me, only that they lacked a strong support system. I recognized that by offering a helping hand and an alternate path to youth in difficult situations, big positive changes can be made in their lives. I wanted to be a part of this process once again as a member of YouthZone.
While I have taken on a variety of roles at YouthZone, my most important contributions have been in the Restorative Justice department. As stated by YouthZone, Restorative Justice is a process that focuses on rehabilitating offenders through reconciliation with victims and their community. What stands out to me about the Restorative Justice Process is the way it gives key stakeholders such as victims and community members a voice, whereas in the traditional criminal justice system these parties often lack the opportunity to provide input.
As part of my internship, I participated in a Community Group Conference, a crucial aspect of the Restorative Justice Program. These conferences are meetings that YouthZone facilitates between the youth involved in a crime, the victims of that crime, trained community members, and members of the youth's support system. The aim is to foster a sense of responsibility and help all parties collectively develop actionable items to repair the harm done, facilitating the reintegration of the youth involved into the community. I found the conference to be highly effective and was impressed by the sensitivity with which this process placed the victim and their needs, rather than the punishment of the harm-doers, as the focus of the discussion.
Watching individuals shift from a standoffish disposition to one of unity, compassion, and understanding was an inspiring experience. This is in part due to the process revolving around the "5 R's" (relationship, respect, responsibility, repair, and reintegration), which not only met the victim's need for repair but also created opportunities for the youth's reintegration in a way that other community members would greet them warmly, the victim would accept them in their community again, and the harm-doers would not re-offend.
Getting involved with YouthZone has been an empowering way for me to contribute positively to the local area before I leave for college, and I strongly encourage other intrigued community members to get involved. Youth and adults from diverse backgrounds can bring a wide variety of experiences to the table, which can help facilitate successful outcomes in future conferences. I encourage those who do get involved to bring their best self to the job because they will be working with young individuals who are the future of our communities. Even the smallest time spent with them leaves a meaningful impact.
This internship has been my first venture into a professional setting. I've learned about handling responsibility, communicating well, and taking pride in my work. On a personal level, I have drawn an immense amount of inspiration from both my coworkers and from the youth I have interacted with and feel closer to my community than I ever have.
I would like to express my sincere appreciation for the opportunity I've had to work with YouthZone. I am so thankful for the welcoming and accommodating nature of the individuals here, and I'm hopeful that I've made a positive impact during my time as an intern.
---
YouthZone is a family-first nonprofit that supports parents and guardians, families, and adolescents. From Aspen to Parachute, we offer parent counseling and education services, family resources, and comprehensive assessment and advocacy to inspire healthy relationships between youth, families, and communities. To learn more about how YouthZone can help, please call us at 970-945-9300.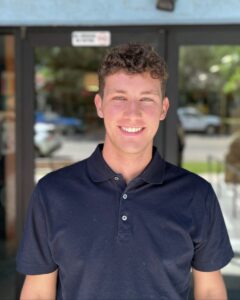 Caleb Thompson is a Restorative Justice Intern at YouthZone. He is entering his freshman year at Harvard University after graduating from Coal Ridge High School. He recently returned from a year abroad in Adana, Turkey as a Rotary exchange student which gave him a renewed determination to contribute to a more just and sustainable world.