Celebrating a Legacy: Remembering our Founding Member, Marilyn Rae Hall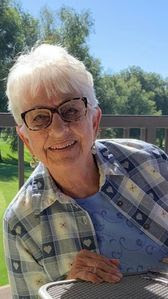 It is with a heavy heart that we share the sad news of the passing of our dear founding member, Marilyn Rae Hall, a true pillar of the YouthZone community. On August 25, 2023, at the age of 84, Marilyn left us peacefully from Albany, Oregon – a place she moved to be closer to her beloved daughter and family – leaving behind a legacy that will continue to inspire and guide us.
Marilyn, born on February 10, 1939 in Rifle, Colorado, held her roots dear to her heart. Her connection to the land and the community was profound, having grown up on several different farms in the area until her family settled at Divide Creek when she was 15.
Following graduation from Rifle High School in 1957, Marilyn moved to Denver to attend Central Business College. In 1960, she moved to Santa Ana, California, for her career, before returning to Rifle in 1974. Her love for the community led her to become one of the original co-founders of YouthZone, providing a lifeline to countless young individuals. Always a community champion, Marilyn was also a Rifle Bear Booster and later owned her own business, Stop Gap.
Words fall short when describing Marilyn's impact on those she touched. Her love for her family and community, her intrinsic generosity, and unwavering support for youth development will forever be remembered. Marilyn enjoyed a good book, traveling to see family members, and her class reunions. She was very proud of her close family ties and made close to 100 or more Christmas stockings for every member of her family to remember her by.
She also worked with the Samaritans purse mission, Operation Christmas Child. Marilyn helped in collecting boxes to send all over the world to children for Christmas. In Lieu of flowers, donations may be made on behalf of Marilyn Hall to Operation Christmas Child. You may send checks to: Rocky Mountain Baptist Church 4199 W. Centennial Pkwy. Rifle, CO 81650 or at RockyMountainBaptistChurch.com. Cards and condolences may be sent to the Family of Marilyn Hall in care of Fisher Funeral Home at 306 SW Washington St. Albany, OR 97321.
Marilyn leaves behind her daughter Debbie Burner and husband Mike, Grandchildren, Megan Burner, Garrett Burner (Lisa), Taylor Burner (Rylee) and 5 great grandchildren, Rohmann, Emily, Mason, Piper and Draetyn all of Oregon. She is survived by her 5 siblings, sisters Carolyn Hogge of Colorado Springs Co., Charlene Collett of Rifle Co., Brothers Max Hall (Margie) of Greely Co., Lanny Hall (Joni) of Kennewick Wa. and Ray Hall (Christy) of Claremore Ok. and Several Nieces and Nephews.
In the spring of 2024, we will come together in Rifle, Colorado, to honor Marilyn's profound contributions and celebrate her incredible life. Details of this memorial event will be determined and shared on the Fisher Funeral Home website.
As we navigate through this loss, we extend our heartfelt condolences to Marilyn's family and friends. We are immensely grateful for Marilyn's extraordinary vision, commitment, and enduring contributions to both YouthZone and the broader community. Her spirit lives on in our ongoing work, exemplifying the indelible impact she had on our mission. Her light continues to shine brightly, guiding us all, one youth at a time.